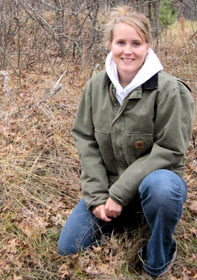 Betsy Oehlke
Soil Scientist
USDA-NRCS, Baxter, MN
Home: Glenwood City, WI
B.S. Crop and Soil Science, Conservation Minor (Dec. 2010)
As a Soil Scientist for the United States Department of Agriculture-Natural Resource Conservation Service (USDA-NRCS), I spend much of my time working outdoors, independently, documenting and collecting information about soils found across the landscape. The information that I document is then used for agricultural purposes, land use planning, environmental planning, silviculture and many other fields. 
When I'm not working outside, I educate landowners and businesses about the importance and function of soils and how soils play a role in their life or their job. I also do a lot of work with data entry; the information I obtain from my documentation gets entered into a national database. That information ultimately ends up on WebSoilSurvey, where a person can find soil information for any location within the United States.
I am very proud to say that I am an alumna of CAFES. The professors and courses fully prepared me for a career doing what I love. Every professor was willing to set aside time to help me with my goals. I was also very involved with the Crops and Soils Club, which helped me build my networking skills and allowed me to talk to people in my industry to determine what career I really wanted to pursue.  I will always be grateful for my professors and CAFES for helping me shape a future in a career I love.