Annual essay contest
Enter your best essay(s)!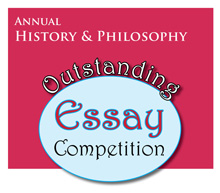 DEADLINE — 4 p.m. Friday, Apr. 11, 2014
(Hard copies only—in Dr. Kiril Petkov's mailbox)
ELIGIBLE — All History & Philosophy majors & minors
PRIZES — A free banquet ticket ($26 value)—1st place winners will also receive an additional prize.
Winners will be notified before April 18 (the banquet reservation deadline) .
Up to two prizes (1st and 2nd) in each category may be awarded as merited.

Other benefits:

a certificate of award
public recognition at the banquet and on this web page
a perk for your resume
Poster